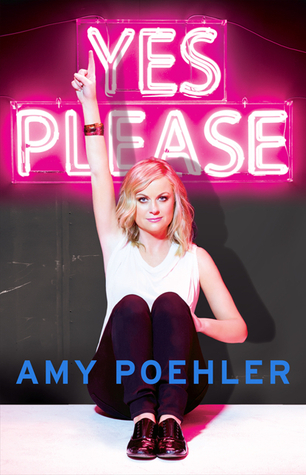 My beautiful friend Celeste gave me this book, and it was a really good gift. Amy Poehler is bomb, and she writes like a rockstar. (But not actually like a rockstar but like a writer.) She's so incredibly funny and cool. Celeste, I mean. And, yes, Amy too.
Anyway, Yes Please is good. It makes for such a fun reading experience. A lot of it is about Amy and the things she's done and the choices she's made. Part of it though is about the reader and thinking about your own life and family and what you want and how you want to live. And this happens in a nonjudgmental, non-pushy way. She isn't trying to tell you what to do, and it's not a self-help book, but it is kind of an encouraging book. She does this mostly by telling stories about her own life, so it's still mostly about her. Duh.
Part of it also is random humorous stuff. For example, she has a chapter called "My Books on Divorce" that's several book titles and summaries she's made up that have to do with how much divorce sucks when you have kids. She does not get into details about what led to her own divorce. Although it could be juicy, some things should probably stay private.
She also talks about her friendship with Tina Fey (best comedy duo) and her friendship with Seth Meyers, who wrote a chapter for her book. Mostly it's really fun. Two thumbs up!